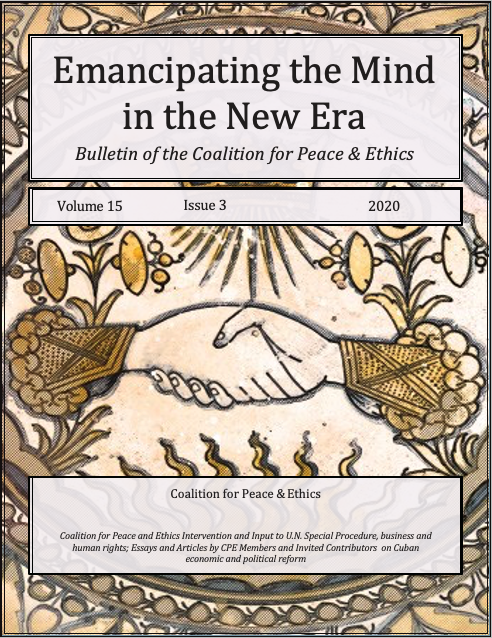 I am delighted to announce the publication of the Winter 2020 issue of the Coalition for Peace & Ethics' Bulletin--Emancipating the Mind in the New Era. Volume 15 No. 3 may be accessed free by clicking on the links provided below. All available on line issues of the Bulletin may be accessed HERE.

This last issue of 2020 is divided into two parts. Part I includes delivered inputs in response to a call for input by the UN Working Group for Business and Human Rights on its preparations for the celebration of the 10th Anniversary of the endorsement of the UN Guiding Principles for Business and Human Rights by the Human Rights Council. Part II includes three essays in issues of Cuban economic and political reform efforts in the shadow of the transition of authority within Cuban ruling circles and its larger implications. These include consideration of the right to political resistance built into the 2019 Constitution and implications of the economic reforms of mid 2020. It also includes a consideration of comparative patterns of reform cycles in Cuba, China, and the United States.

The Table of Contents with links to individual articles and contributions, along with the short introduction to the volume follow below. A link to the entire issue also follow.
A. Introduction

Introduction: Coalition for Peace & Ethics Interventions and Inputs related to Business and Human Rights; Articles and Essays by CPE Members and Invited Contributors on Issues of Cuba

CPE Volume 15(3) (Larry Catá Backer and Coalition for Peace & Ethics Special Issue editors)

For this last issue the Coalition for Peace & Ethics is delighted to include Inputs delivered by the Coalition for Peace & Ethics to the UN Working Group for Business and Human Rights and on the Working Group's Report to the UN General Assembly on business and Human Rights in conflict zones. In the first, "Elites have to get out of the way"; Coalition for Peace & Ethics Input to the "UNGPs +10: Toward a Decade of Global Implementation," CPE emphasizes what it views as some of the great impediments toward the realization of the goals and objectives of the United Nations Guiding Principles for Business and Human Rights and their challenges for the second decade of its existence. In the second, Larry Catá Backer suggests some of the challenges along with valuable insights, of the developing position of the UN Working Group respecting the responsibilities of business enterprises in conflict zones.

The essays included in this issue all touch on Cuban economic and political reform. For this issue, CPE is delighted to introduce Lenay Martha Alvarez Vega, whose two contributions add much to current discussions about contemporary issues that ae of great relevance to the continuing reform in Cuba. The first of her contributions, "The Right of Political Resistance in the Cuban Constitution," is the English translation of an essay previously published. It considers sensitive and unexplored issues of political rights within the structures of Cuban Marxist-Leninism. Her second contribution is provided both in the original Spanish and also in an English translation. It is entitled "La Intermediación en el empleo: la entidad empleadora en la inversión extranjera en Cuba/ Intermediating Cuban Employment Relationships: The Employment Entity on Foreign Investment," touches on one of the more troublesome issues within Cuban Marxist Leninism--the issue of labor intermediation. Intermediation, the use and abuse of placement and employment agencies as an intermediary between workers and employers, serves an important role in Marxist Leninist states where the state assumes that role, but the possibilities of abuse of the practice, and additional forms of abuse possible especially as the private sector opens up must be considered.

The third contribution, Larry Catá Backer's "Policy as an Oscillation With the Illusion of Progress in the United States, China, and Cuba," considers issues of reform within the political-economic systems of three quite different states. It then drills a little deeper in the context of Cuban economic reforms announced near the end of 2020. It suggests the way that ideological constraints may well substantially affect the scope of discretion available to officials seeking to implement the announced reforms, and the difficulties of breaking away from established patterns of thinking about and implementing reform.

We hope our readers find the proceedings and essays of some use. We also hope that readers who are interested will also consider listening to the interviews. In many ways they provide a window onto the realities of the pandemic at a point when global actors were only coming to realize its scope and the challenges the pandemic posed.

Larry Catá Backer

CPE Members

CPE 15(3) Editors
CONTENTS

Front Matter (view HERE)

A. Introduction

Larry Catá Backer CPE Issue Editor, "Introduction: Coalition for Peace & Ethics Interventions and Inputs related to Business and Human Rights; Articles and Essays by CPE Members and Invited Contributors on Issues of Cuba" 15(3):451-452 (view HERE)

B. Conference Questions

1. Coalition for Peace & Ethics (prepared by Larry Catá Backer), "'Elites have to get out of the way'; Coalition for Peace & Ethics Input to the U.N. Working Group Project "UNGPs +10: Toward a Decade of Global Implementation" 15(3):453-464 (view HERE)

2. Larry Catá Backer, Short Reflections on the U.N. Working Group's July 2020 Report to the General Assembly: "Business, Human Rights and Conflict-Affected Regions: Towards Heightened Action" 15(3):465-474 (View HERE)

C. Essays and Other Contributions

1. Lenay Martha Álvarez, "The Right of Political Resistance in the Cuban Constitution" 15(3):475-482 (View HERE)

2. Lenay Martha Álvarez, "La Intermediación en el empleo: la entidad empleadora en la inversión extranjera en Cuba/ Intermediating Cuban Employment Relationship: The Employment Entity on Foreign Investment" 15(3):483-500 (View HERE)

3. Larry Catá Backer, "Policy as an Oscillation with the Illusion of Progress in the United States, China, and Cuba" 15(3):501-512 (View HERE)