The folks over at the
European Chinese Law Research Hub
(with thanks to Marianne von Blomberg, Editor ECLR Hub, Research Associate, Chair for Chinese Legal Culture, University of Cologne) have posted a discussion of a new work by Dr. Colin Hawes (associate professor, Law Faculty, University of Technology Sydney, Australia):
Transforming the Culture of Chinese Prosecutors through Guiding Cases
.
Marianne von Bloomberg explains:

Much attention has been paid to the Guiding Cases issued by China's Supreme People's Court. The Supreme People's Procuratorate, China's top prosecutor, likewise issues guiding cases. In his recent paper, Colin Hawes finds that these cases in recent years indicate a significant turn in prosecution work in China, which is characterized by close cooperation between police, local governments and courts (see Grace Mou's work).
One of the most interesting aspects of the paper touches on the strategic utility of guidance as a characteristics of the administrative state. In China, that guidance is now emerging in the form of guiding cases; but also emerges as ratings, assessments, reputation scoring and the like. The idea is to develop a comprehensive system of guidance--with substantial consequential frameworks of rewards and punishments to minimize the possibility of deviance. Guiding cases now emerge from the great formal legal and prosecutorial institutions--the Supreme People's Court, the Procuraturate, as well as the Central Commission for Discipline Inspection and the National Supervisory Commission. The connection on the ground then, is as Dr. Hawes suggests. Nonetheless that implememntaiton connection points to a higher order coordination of instructions for the exercise of discretion that has been the central cunundrum of both Marxist Leninist and liberal democratic administrative orders.

I am cross posting the essay below. The original ECLRH post may be accessed HERE. And as a plug for the marvelous work at the European Chinese Law Research Hub: if you have observations, analyses or pieces of research that are not publishable as a paper but should get out there, or want to spread event information, calls for papers or job openings, or have a paper forthcoming- do not hesitate to contact Marianne von Bloomberg.
A new paper by Colin Hawes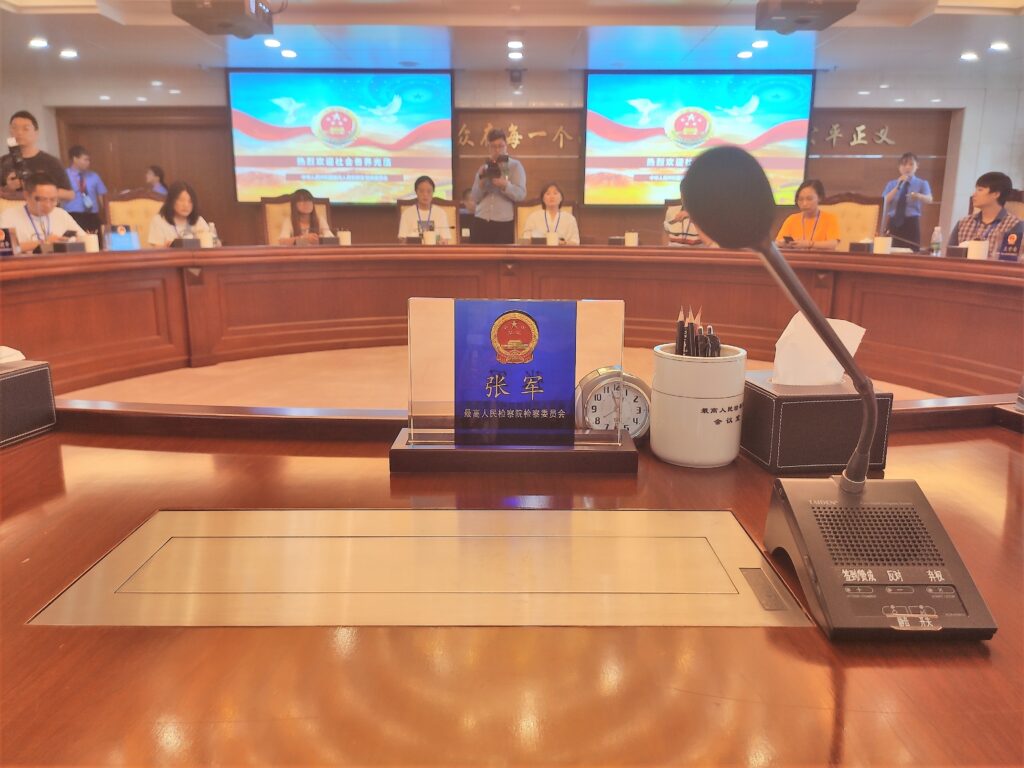 My interest in guiding cases came through my previous research on the growing use of case precedents by Chinese judges, especially focusing on corporate law cases.1 With the huge increase in publication of Chinese court judgments on freely available online databases – over one hundred million judgments have now been published in the past ten years – it is possible to trace how the law is being applied at a very granular level, whether in individual Chinese regions/cities or specific levels of court, in all types of legal cases except those involving sensitive political interests (which remain unpublished).
China is a civil/continental law jurisdiction, so prior Chinese court judgments are officially not binding on subsequent cases; but in practice, I found that both judges and lawyers would refer to previous judgments, especially those from higher courts, to support their opinions and maintain consistency. However, while they do routinely refer to prior judgments during court hearings, judges are still not permitted to openly cite those precedents in their written judgments. The only exception is a very small number of "guiding cases" (指导性案例) that have been selected by the Supreme People's Court (SPC) and given official approval to be cited and effectively binding on all courts in China, when dealing with similar legal issues.
The problem is, the selection process for these SPC Guiding Cases is so slow, and the legal issues that they deal with are mostly so narrow, that it is very rare for lawyers and judges to find a relevant guiding case to assist their legal arguments. As compared with over one hundred million published judgments online dealing with all manner of legal issues, at the time of writing there were less than two hundred guiding cases available.2 Not surprisingly, therefore, lawyers and judges continue to make use of the larger database of online judgments as an informal case precedent system.
Not only the SPC, also China's public prosecutor, the Supreme People's Procuratorate (SPP) had started publishing its own SPP Guiding Cases. Though also relatively few in number, these cases are likely to have a much greater impact on the administration of justice in China, both in criminal law cases and environmental protection cases.
The reasons are, firstly, that several of the SPP Guiding Cases focus on aspects of the death penalty, so if followed by all procurators as they are supposed to, they will literally have a life-or-death impact on criminal suspects.
Secondly, the SPP Guiding Cases make it clear that a key role of procurators is to uphold the public interest against abuse by powerful officials or corporate interests. Many of the SPP Guiding Cases deal with prosecution of government officials or state representatives working at agencies such as the environmental protection and food safety bureaus as well as urban control officers and police officers, The most common charges are corruption and criminal negligence. The eighth set of cases focuses entirely on People's Procurators bringing civil public interest lawsuits and administrative lawsuits against environmental polluters and government officials who fail to prevent pollution. This pilot project has resulted in a huge increase in the number of successful environmental pollution lawsuits in China, now numbering in the tens of thousands.
Finally, several SPP Guiding Cases go beyond narrow and specific points of law to cover broad procedural issues that are generally applicable over a wide range of criminal cases. For example, one of the most significant issues is the exclusion of illegally obtained evidence, especially evidence obtained through torture or beating of suspects, which is clearly addressed in SPP Guiding Case 27. The rule in this case can be applied to any criminal prosecution. If it is followed consistently by local branches of the People's Procuracy, it should reduce the number of wrongful convictions, and in the longer term, remove the incentive for police to mistreat criminal suspects in custody which, according to international human rights groups, commonly occurs.
To be sure, these SPP Guiding Cases are only one part of a broader reform effort in the sphere of criminal procedure and regulation of procurators. Others include a comprehensive revision of the Criminal Procedure Law in 2012, regulations issued by the SPP in relation to public interest lawsuits in 2016, and an amended Procurators Law in 2017. There is also some ambiguity about the legal status and weight of SPP Guiding Cases in relation to these more formal legal sources, an issue discussed further in the concluding sections of my article.
Even so, the SPP Guiding Cases clearly demonstrate to people's procurators throughout China how the revised laws and regulations should be applied in practice. They provide local procurators with precedents endorsed at the highest levels of the SPP to support battles against criminal activity and environmental pollution at the local government levels. And perhaps most importantly, both the content of the Guiding Cases and the fact that they were issued at all reveals an unprecedented cultural change within the people's procuracy itself from a body that was essentially an extension of the police or local power interests to one that sees itself as a professional and relatively independent institution with a focus on protecting individual rights and the public interest.
Having said this, criminal defence lawyers and civil society groups are still severely restricted and often persecuted in China. And due to the continued Communist Party interference in the Chinese legal system, demonstrated in more detail in the paper, it is too early to say whether the greater respect for basic legal rights revealed by these Guiding Cases is a step towards increased liberalization of the Chinese legal order and political system.
Find the paper, published with the New Criminal Law Review, here. Dr. Colin Hawes is an associate professor in the Faculty of Law, University of Technology Sydney, Australia. He has an LL.B. and a Ph.D. in Chinese studies from the University of British Columbia, Canada, and a B.A. Hons. from the University of Durham, UK. He also studied Chinese language at People's University in Beijing and Wuhan University. He has published widely on Chinese corporations, law, and culture, including three books, the latest of which is The Chinese Corporate Ecosystem (Cambridge University Press, forthcoming July 2022).
---
1 Colin Hawes, "How Chinese Judges Deal with Ambiguity in Corporate Law: Suggestions for Improving the Chinese Case Precedent System," Australian Journal of Asian Law Vol 19 No 1 (August 2018): 1-22; and Colin Hawes, Alex K L Lau and Angus Young, "Lifting the Corporate Veil in China: Statutory Vagueness, Shareholder Ignorance, and Case Precedents in a Civil Law System," Journal of Corporate Law Studies vol.15.2 (2015): 341-376. Both papers are available at https://papers.ssrn.com/sol3/cf_dev/AbsByAuth.cfm?per_id=503318.
2 Currently there are 165 SPC Guiding Cases: see full Chinese texts at https://anli.court.gov.cn/static/web/index.html#/zdal.
3 SPP Chief Procurator Zhang Jun stated that 84,000 environmental public interest cases were brought by procurators in 2020 alone: Zhang Jun, "Zuigao Renmin Jianchayuan Gongzuo Baogao, 2020 Nian" [SPP Work Report 2020], National People's Congress, 8 March 2021, section 2, http://www.gov.cn/xinwen/2021-03/15/content_5593016.htm.